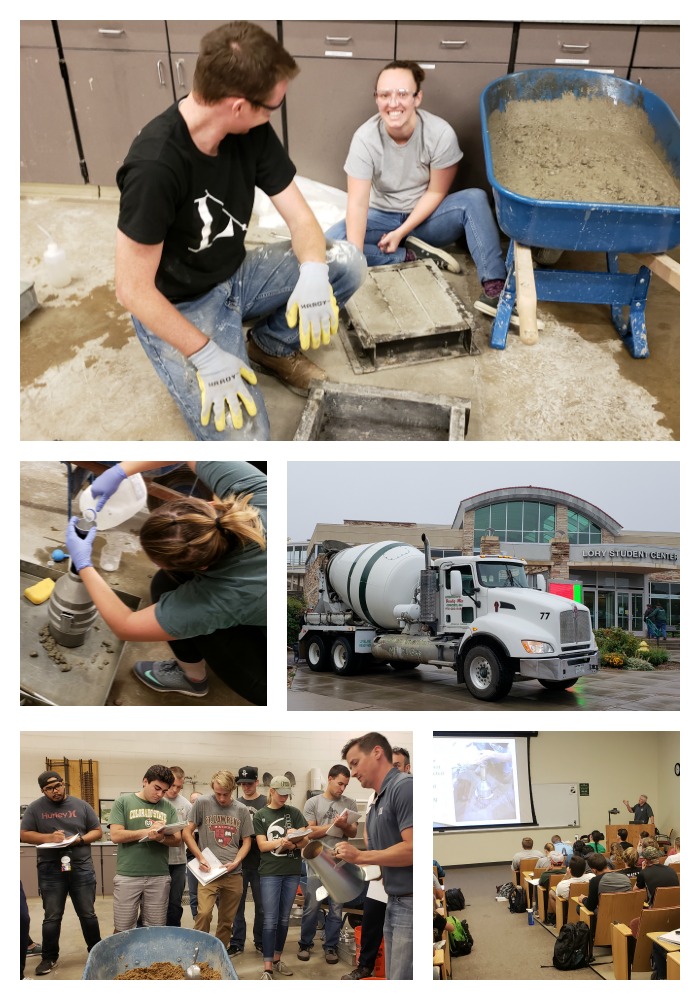 For a third year, members of the Colorado Ready Mixed Concrete Association (CRMCA) volunteered for two weeks educating and administering the American Concrete Institute's (ACI) Concrete Field Testing Technician Grade 1 certification at Colorado State University (CSU) in Fort Collins. This year, a total of 105 upper class engineering students engaged in learning the basics of concrete testing procedures, the purpose of the testing, and the benefits to their career during and after their studies. The students had the opportunity to observe demonstrations of the test procedures, including tips and insight, as well as multiple days of hands-on practice where volunteers were available for questions. We hope that every student will be successful in their career, beginning at the front of the line with the Concrete Field Testing Technician certification!
Thank you to the CSU College of Engineering, Professor Dr. Rebecca Atadero, and the Civil Engineering students for being enthusiastic and showing so much interest in concrete materials! We continue to look forward to a fourth successful training and certification in 2020. We would also like to thank all the volunteers over the course of training and certification from our member companies:
A.G. Wassenaar, Inc.
Cesare Inc.
Colorado Department of Transportation
Ground Engineering Consultants, Inc.
Loveland Ready-Mix Concrete, Inc.
Martin Marietta
Martinez Associates, Inc.
RockSol Consulting Group, Inc.
Varra Companies, Inc.
U.S. Bureau of Reclamation
Yeh and Associates, Inc.
Wheeler Concrete Services
JT Mesite, P.E.
Program Manager
Colorado Ready Mixed Concrete Association