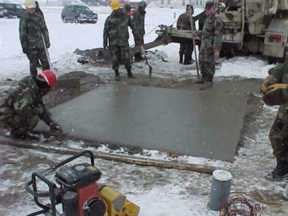 Cold Weather Concreting in Colorado: Presented by the CRMCA Southern Market Committee
The seminar will take place at the Warehouse Restaurant (25 W. Cimarron St., Colorado Springs, CO 80903) on Friday, November 9 from 11:30 a.m. – 1:00 p.m.. There is no cost to attend; however, registration is required due to limited seats available.
The presentation will address basic and advanced principals of cold weather concrete placement included in ACI 306R-10. Specific strategies for cold weather preparation, concrete mixes, protection of plastic concrete and concrete testing will be discussed. There will be discussion during the seminar presented by Hannah Edelmann of BASF. After the presentation, there will be time for a Q & A session.
Who should attend?
Contractors
Concrete specifiers, building inspection officials and concrete testers
Anyone who works in the Colorado concrete industry between October and May