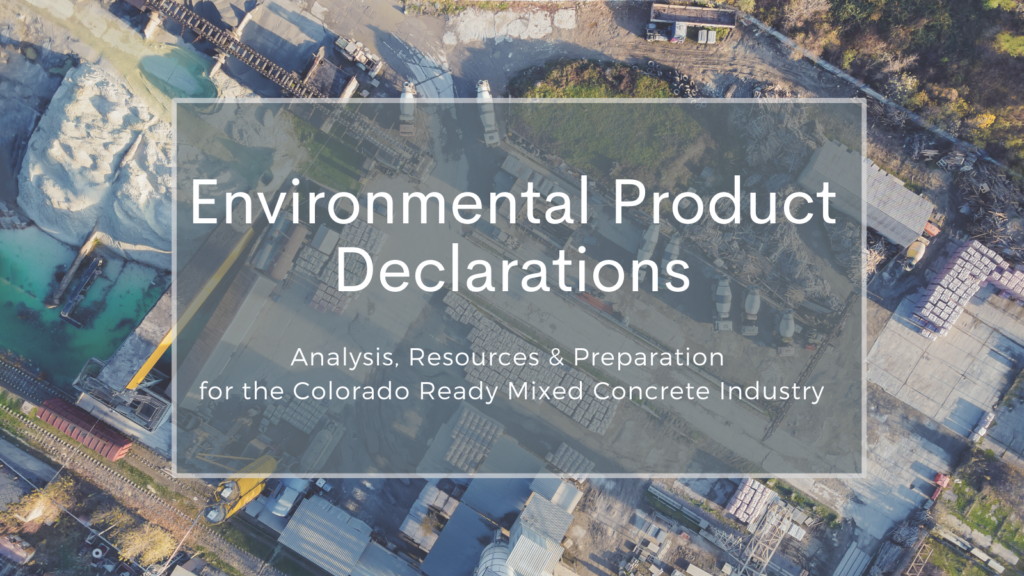 In Colorado, Environmental Product Declarations (EPDs) are top of mind. Recent discussions with CRMCA members have revolved around the Buy Clean Colorado Act and the impact of EPDs on the construction and concrete industries. As the new year begins, EPDs are expected to be an increasingly more important discussion as they will be included as part of design and construction plans across the state.
This month, I will provide a brief overview of EPDs, info on the importance of EPDs, and resources for members which will help prepare your company.
What are EPDs?
EPDs are like nutrition labels on food products, but for materials. Each EPD assesses a specific product on its life-time environmental impact to the world. EPDs are typically created by producers of a specific material and independently verified and registered. EPDs must follow strict regulatory standards to provide appropriate data and reporting information. Evaluations include six major categories, though in the construction industry, Global Warming Potential in measuring Carbon Dioxide Equivalence is the most significant as there is a direct correlation to Greenhouse Gas (GHG) emissions.
Importance of EPDs
In 2021, HB21-1303 (Buy Clean Colorado) was passed through the state legislature and signed into law by Governor Polis. Buy Clean Colorado will impact all sectors of the building and design community as it requires the Office of the State Architect (OSA) and the Colorado Department of Transportation (CDOT) to develop policies regarding global warming potentials from construction materials used in specific public projects, including roads and public buildings built within the state.
Buy Clean Colorado states that CDOT must begin requiring EPDs for each approved material from contractors awarded a specified public project by July 1, 2022. Additionally, by 2024, OSA will establish a procurement policy that uses EPDs to determine compliance with GHG limits for each material. CDOT and the OSA will develop policies to track and record GHG emissions from construction materials, including cement and concrete mixtures, wood structure elements, glass, steel, and asphalt, consistent with EPD criteria and standards.
Resources for Ready Mixed Concrete Producers
CRMCA has curated a list of resources for concrete producers and suppliers, to ensure our members stay ahead of the curve. Details are listed below.
Please reach out to me with any questions or ways that CRMCA can assist your operation.
JT Mesite, P.E.
Program Manager
CRMCA