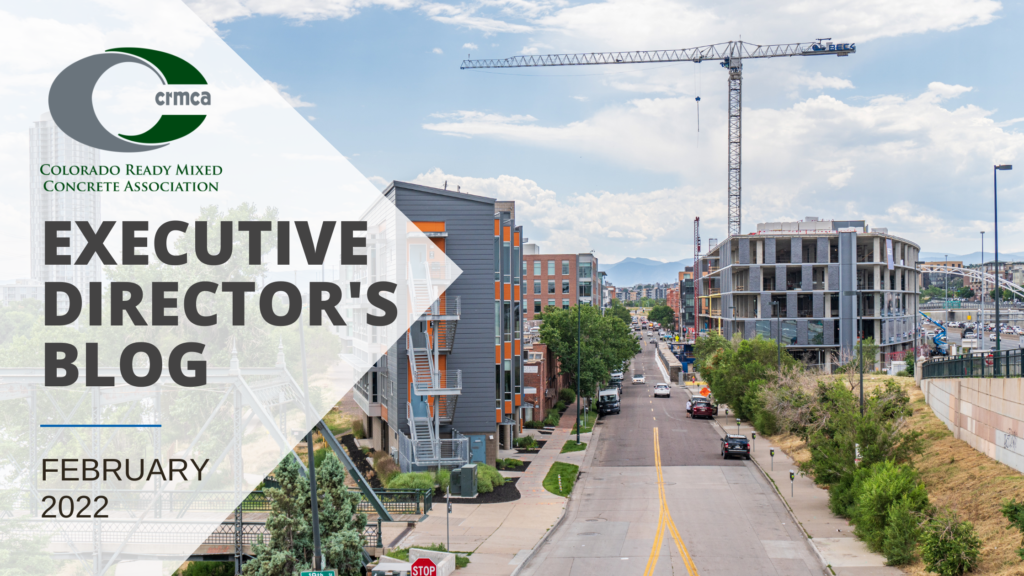 Hello CRMCA membership. With March right around the corner, we all look forward to the start of spring. I hate to jinx us all, and say it looks as though this stupid covid thing is receding. So again, I won't say anything about it. There, nothing said!
There remains a lot going on and here are a few highlights:
Governmental Affairs. This week, we restarted our in person Legislative Breakfast sessions at the Tetra Tech downtown facility. This occurred February 23 with guest speakers Max Hynes and Andres Carrera from Sen. Hickenlooper's office. Totsy Rees with Rees Consulting presented the most recent update of the bills we are debating during the session. The Legislative Subcommittee continues to meet on Monday mornings. Please contact Annelise Shepherd if you would like to get involved.
BWS. CRMCA is reviewing and updating the Build With Strength strategic plan. Emma Dolan is leading this effort and working with staff and members to update the communications, advocacy, education/promotion, and measures portion of the plan. A huge component of BWS this year is focused on responsible re-building of the Marshal fire devastation. Our new website: Build Boulder Better is intended to educate on the benefits of constructing with concrete, and specifically ICF. Reach out to Emma if you are interested in participating.
CTAC. We remain right in the middle or our National Launch. The expanded program platform is being beta tested in Missouri, California and Ontario as we speak. There are several other states in line as we are expecting to have a fully operational, national concrete testing monitoring program in place over the coming months. Contact JT Mesite if you would like more info.
ACI. ACI sessions are taking place at full speed. CRMCA recently released the registrations for courses occurring through June of 2022. Register here.
Events.

Ski Retreat. The Ski Retreat was a huge success and very well attended in Breckenridge on Jan 31 & Feb 1. Thanks to our event sponsors including BURNCO Colorado, CHRYSO, Martin Marietta, and Monarch Mountain Minerals and Aggregates.
Virtual Safety Awards Ceremony. CRMCA and CSSGA will recognize the 2021 Team Safety Awards winners during this virtual event on March 3 from 9:30 – 10:15 am Zoom.
March 23rd Legislative Breakfast. The next Legislative Breakfast is scheduled for March 23rd at 7:30 am at Civic Center Plaza (1560 Broadway, 19th Floor Conference Room, Denver, CO 80202). Email annelise@coloradocaa.org to RSVP and for more info.
Concrete day at the Capital. We are planning to re-start the popular Concrete day at the Capital on April 29 at the Colorado Capital grounds. Mark the date and plan to join us as we interact with legislature and their staff.
Summer Conference. Save the date for the 2022 Summer Conference in Steamboat Springs. This event will take place on July 21-22.
Mixer Truck Diver Championship. This event is being planned for August 20 in Denver. Although planning has only recently begun, we welcome additional volunteers for our steering committee. Contact JT Mesite if you would like to join in.
There you have it. I encourage you to participate in any of the events or programs listed. The true strength of CRMCA comes thru member engagement. Together, we can continue to improve and expand the ready mixed concrete industry. Thanks.