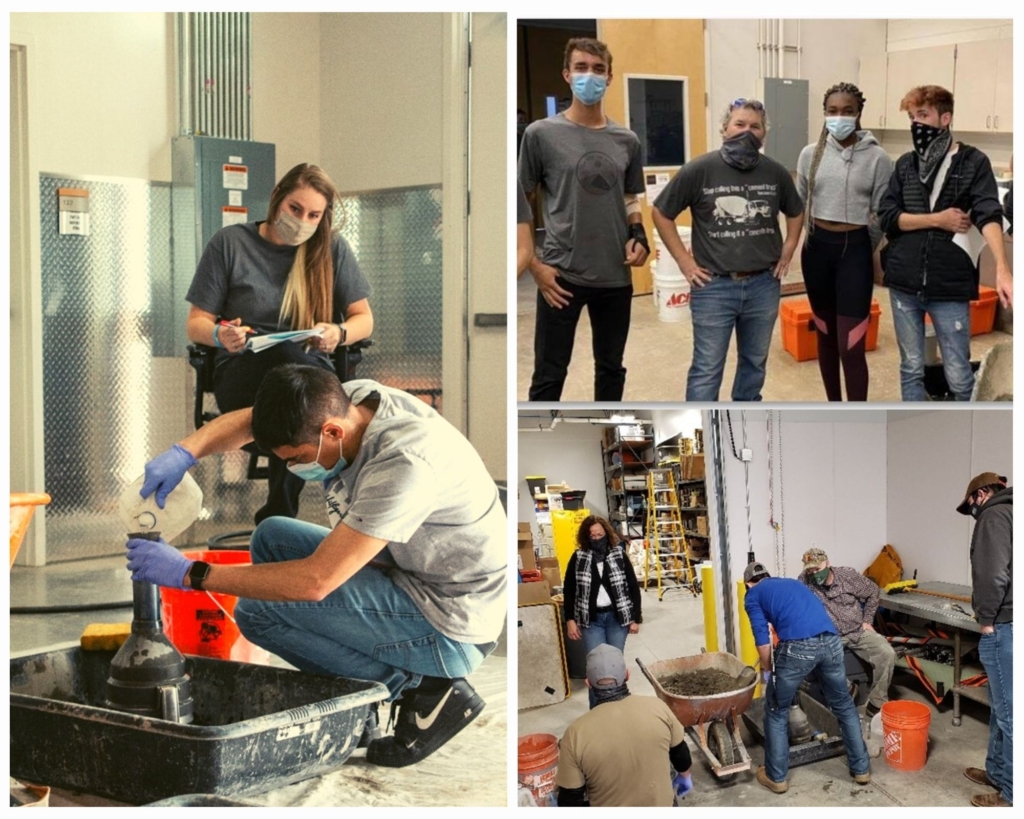 As a Local Sponsoring Group for the American Concrete Institute (ACI), CRMCA has continued concrete testing certifications in Colorado in 2021. In addition to providing certifications for industry personnel, CRMCA also partnered with local Colleges and Universities to advance the knowledge base of engineering and construction management students. Student Partnerships with both Colorado State University (CSU) in Ft. Collins and CSU-Pueblo have been going on since 2018.
Last year, CRMCA had to reduce interactions with these schools due to COVID-19 restrictions. Even with these restrictions, CRMCA was able to teach CSU in Ft. Collins students about concrete mix designs. Amid the pandemic, students continued to attend laboratory hands-on classes in small groups. CRMCA detailed the properties, mixing and required testing needed for a standard mix design. Loveland Ready-Mix Concrete donated aggregate, cement, and additives to help create a mix with the students, as well as a great instructor in Jeff Gomes, the company's Quality Control Manager.
This year, CRMCA was able to expand in-person interactions with Colorado students once again. In March, the ACI Concrete Field Testing Technician Grade 1 certification was provided to twelve CSU-Pueblo students and Kevin Sparks, CSU-Pueblo, Assistant Professor, Civil Engineering Technology and Construction Management. Then, in early April, the Student Partnership program went to Aims Community College for the first time to participate in the Construction Management department and Materials course. Both events so far this year included one day of demonstrations and student practicing (getting dirty) and a day for the certification exams. These Student Partnerships are only as successful as those that assist. Thanks to these companies that have helped this year so far:
CarbonCure
Colorado Department of Transportation (CDOT)
Fremont Paving And Redi-Mix
Granite Engineering Group
Ground Engineering
Loveland Ready Mix
Martin Marietta
North American Testing
Yeh and Associates
As this school year winds down, CRMCA is already in plans to work with these schools once again. If you are interested in engaging, do not hesitate to reach out!
Thanks again to all the companies and individuals that have made the CRMCA Student Partnerships a success and good luck to the students that have enhanced their early careers beyond college with their first certification.
JT Mesite
Program Manager
CRMCA