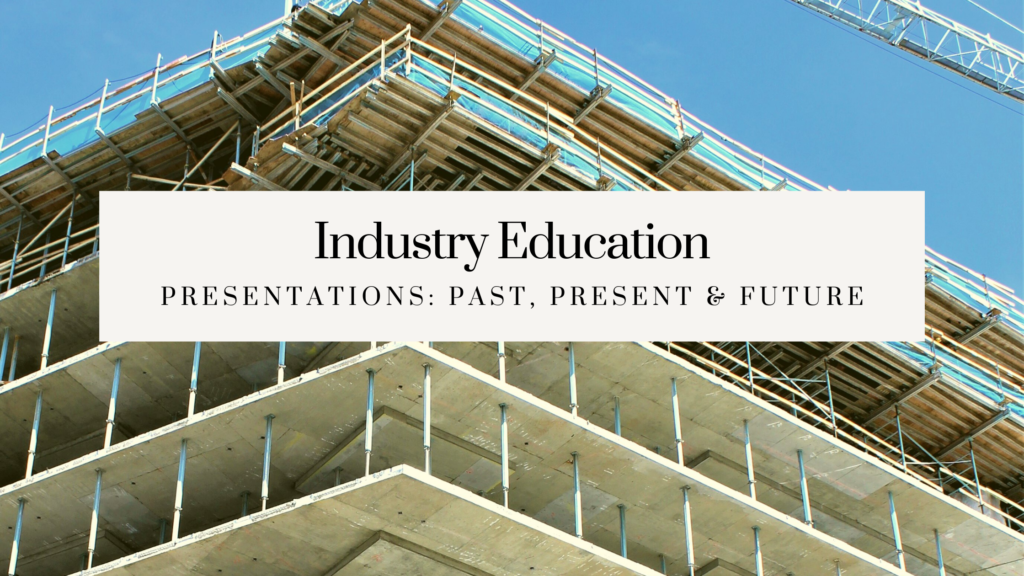 CRMCA Committees continue to reach the concrete industry through development and promotion of educational tools. The Market and Technical committees follow different paths to implement the shared goal of expanding concrete knowledge and usage in construction. The committees have developed materials that revolve around education for industry professionals, including municipality entities, designers and specifiers, engineers and technicians, and contractors.
Following up on last month's blog, I am focusing on past, present, and future presentations.
Yearly, the Market and Technical Committees present relevant topics in the concrete industry. Based on feedback from CRMCA members and regional professionals, these presentations are created to discuss specific items such as hot and cold weather concrete, flatwork finishing, or concrete inspection. Some presentations presented recently include:
This Fall, the CRMCA committees are in development of future presentations, both online and in-person.
Concrete Inspection 101

Members of the Colorado Ready Mixed Concrete Association's Southern Market Committee are partnering with El Paso County and the City of Colorado Springs to discuss concrete inspection in the Southern Colorado area. Topics include specifications, delivery, on-site testing, initial curing and strength testing, and other placement information.
Mix Design Melee: Prescriptive vs. Performance

As a follow-up to "Ash an Expert" earlier in 2021, CRMCA Central Market will dive into the differences between performance and prescriptive mix design processes, including benefits to each and issues posed by some current specifications.

The Concrete Scoop to Initial Curing: A Consolidated Look in Concrete Casting and Storing

The CRMCA Technical Committee will go beyond basic concrete testing procedures and discuss specific procedures for the proper casting and curing of cylinders. The presentation will detail processes seen on sites in Colorado as compared to requirements following ACI and ASTM Standards, the effects of the processes, and potential solutions.
Many of these documents and other educational information can be accessed through the CRMCA Technical Resources webpage. As details for future presentations are determined, they will be shared.
Thanks to the leadership and participation from our committee members! If you have any comments, inquiries, or wish to assist with future endeavors noted, please do not hesitate to reach out.
JT Mesite, P.E.
Program Manager