Hello CRMCA membership.  Snow storm this week??  Doesn't that seem a little early!!  As the year goes by quickly, it sometimes feels like summer flies by the fastest!!!  Growing up in North Dakota an hour from the Canadian border, summers were short.  How short you ask?  I remember my senior year of high school, summer fell on a weekend!  Now THAT'S short.  Regardless, let's talk about updates at CRMCA.
The annual Concrete Clay Shoot was a huge success with our largest turnout yet.  Over 60 shooters participated this year on what turned out to be a beautiful October day at Colorado Clays in Brighton, CO.  In addition to great networking opportunities, this fundraiser for "Support a Soldier" adds to the event.  Thanks to all those who took part.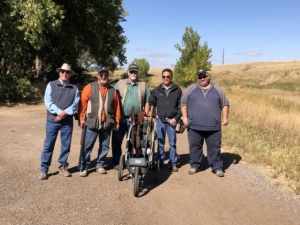 Another recent success was the completion of the CRMCA Promotional Video and Build with Strength (BWS) Video.  Some of you participated in this video at the Summer Conference in Steamboat Springs in July.  It has now been completed and is utilized to quickly explain what CRMCA is all about, and introduce the BWS initiative to others.  It has already been used several times and many more are planned.  Additionally, we now have a true video library to utilize videos on many subjects.  Thanks to Dana Rotkovich for the great idea, Mike Alvarado with CRH Materials, and Annelise Shepherd with CRMCA/CSSGA for all their efforts and dedication to the project.  Here is a link to the video to share it or you can view it below.
We also hosted a very successful BWS Town Hall event on Oct 15 in Denver for contractors wanting to learn more about constructing with Insulating Concrete Forms (ICF).  This event was very well attended and will set the stage nicely for our ICF Training session to be held on Dec 3rd.  Both these sessions are growing awareness for much needed contractors in this industry, allowing for the segment to grow.  I encourage all to inform anyone you know about the Dec 3 Training Session and help us expand the BWS program and the use concrete in the construction of low to mid rise buildings throughout the state.  Use this link to access registration and details.
Also, make sure your company and employees are recognized for their efforts with the CRMCA/CSSGA Annual Awards.  Deadline for these awards is fast approaching on November 1.  I encourage you to complete the application process as these are appreciated by all. Download the 2019 Awards Forms.
Last but not least, I need to mention the Annual Conference coming up November 21 & 22 at the Broadmoor in Colorado Springs.  We have a great lineup of speakers this year which will include:

Michael Philipps, President of the National Ready Mixed Concrete Association (NRMCA).  Michael will be providing specifics on the many changes occurring at NRMCA as well progress updates on the Build with Strength program.  We are very pleased he is taking time out of his busy schedule for this visit.
Amanda Muller, IM Associate Development Director – California State University, Chico Concrete Industry Management (CIM) Degree.  As this is one of only 4 universities in the U.S. offering degrees specifically for concrete, it will be very informative and possibly a great source for future employees in the Colorado concrete industry.
For our President's Banquet Friday evening, we are fortunate to have André van Hall, Professional Speaker & Curiosity Instigator.  André challenges leaders and teams to wake up their curiosity!  An engaging keynote speaker and corporate consultant, André specializes in Change Leadership.  You will be as impressed as I was the first time I heard him speak.  This is one you will not want to miss!
Register for the event today.
Thanks to all.  I hope to see you in Colorado Springs.  Don't hesitate to reach out to any of us at CRMCA.  Now get that snow shovel ready………
Todd R. Ohlheiser
Executive Director
Colorado Ready Mixed Concrete Association