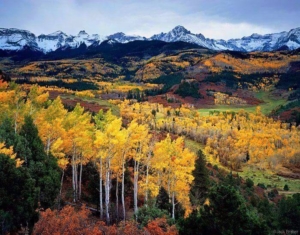 The air is crisp (when it isn't smoky), and the shadows are long. From amber fields on our eastern plains, to golden aspens in our mountains, fall is a magical time of year in Colorado. The early season storm just after Labor Day impacted much of the state, stoking anticipation and excitement amongst skiers and snowboarders for the coming winter. It also served as a reminder to concrete contractors that construction schedules need to accelerate before the frost sets in. This storm was the first consecutive day bad weather event since February. For the most part, we've been treated to dry, albeit hot, weather during the busy construction season. The drier than normal year has been a welcomed tailwind for our industry during the COVID-19 pandemic, along with relatively traffic-free highways.
As we collectively push toward the finish of the year, our employees become more susceptible to injury. This year has been stressful for many. COVID-19 anxiety from enhanced safety protocols is real, especially for our front-line employees who continue to produce, deliver and test concrete. It's important that we create a safe and healthy environment for the people who matter to us most. We will soon transition from the summer dangers of dehydration, to the increased winter risk of slips and trips. It's up to us to think and lead in ways that activate and support safe behavior.
Below are highlights from the CRMCA.
CRMCA Events
September Digital Discussion. Join the CRMCA and CSSGA on September 30 for a Zoom meeting with Brian Lewandowski, Executive Director of the Business Research Division at the Leeds School of Business, University of Colorado Boulder. Brian will update members on the current economic conditions and early expectations for the economy in 2021 followed by a Q&A session with members.
Clay Shoot. Join CRMCA for this year's event on October 14! The event will be held as a European Style Tournament, meaning your team can arrive anytime between 12:00 – 2:00 p.m. and will start on whichever station is open.
Virtual Seminar: Set Time Accelerated & High Early Strength Concrete. Join the CRMCA's Central Market Committee for their 2020 Fall Webinar on Thursday, October 22. Seminar speakers will discuss the ins and outs of using set time accelerated and high early strength concrete. This seminar will explain the differences between set time accelerated, and high early strength concrete, as well as all of the methods in order to make them happen.
Annual Conference. The 2020 virtual Annual Conference registration is now open! Members can attend this event at no cost. I hope to see many of you there.
Global Concrete Summit. Join the National Ready Mixed Concrete Association, Grey Matters and other sponsors for the first ever Global Concrete Summit November 30 – December 10. CRMCA members receive a 40% discount using the code: COLORADO40 at checkout.
2020 Election
Statewide Ballot Guide. CRMCA has created a downloadable 2020 Statewide Ballot Guide. Please share this document with your friends, family, and coworkers!
Candidate Endorsement List. The Governmental Affairs Committee and CRMCA Leadership prepared a candidate endorsement list. Download the document and please share with your network.
ConRock Colorado Cover Photo Contest Winner. Congratulations to Martin Marietta's Tom Beadle and Ryan Dravitz for submitting this year's winning project, Block 162! Use the link listed to learn more about the project and view the winning submission.
Cole Jacobs, Martin Marietta
Board President, Colorado Ready Mixed Concrete Association