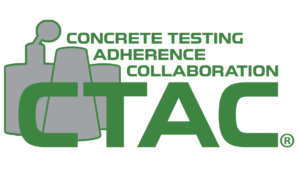 In 2015, the CRMCA board of directors voted to invest in the Concrete Testing Adherence Collaboration (CTAC). The goal of the program is to improve the concrete industry and to create uniform testing through ACI Standards. The program assists producers and consultant laboratories in improving testing procedures through the evaluation of testing technicians during on-site concrete testing procedures.
In 2017, the program received an upgrade. The upgrade included modifications to the questionnaire and updates to the website and mobile application. Based on data collected through assessments across the State of Colorado, reports are produced regularly for the industry to review. The CTAC questionnaire and mobile apps continue to be updated to meet current needs of the program.
If you have any questions or are interested in being an Observer, please contact JT Mesite, P.E. with CRMCA at jt@coloradocaa.org. Observers should be CRMCA Member employees with knowledge and experience in ACI field concrete testing methods, including Concrete Producers and Engineering/CMT Laboratories, QC/QA Senior Technicians, Inspectors, and Supervisors.
Use the links below to:
In the course of evaluating testing technicians and creating consistent testing throughout the concrete industry, the Observers must also take responsibility in their observations. In order to create consistency in both the testing technicians and those observing them, the CRMCA has created the CTAC Observation Feedback form. If you would like to provide kudos or have concerns with an Observer, please complete the feedback form.
*Access to Field Observation Photos and Adherence Reports are limited to technician/laboratory supervisors and managers. Please contact JT Mesite at jt@coloradocaa.org to authorize the proper access to this information.