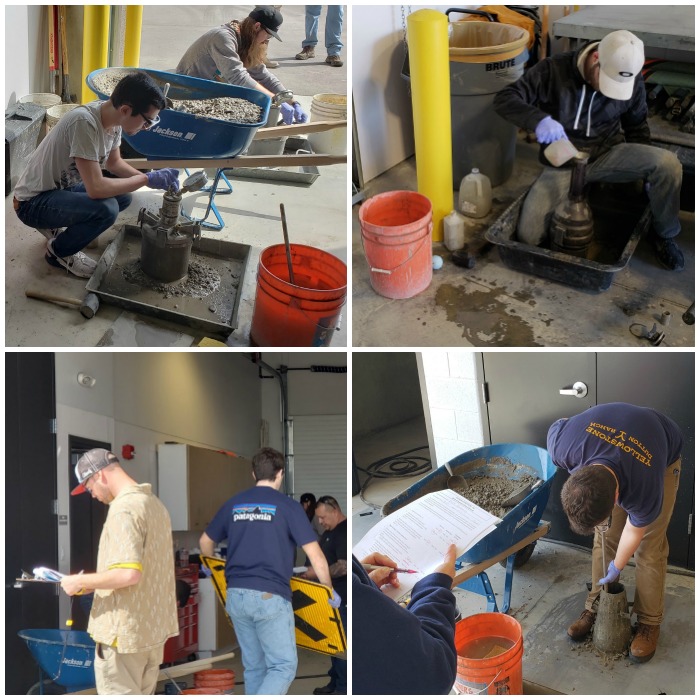 For the past two years, the CRMCA has partnered with Colorado State University (CSU) in Fort Collins. Educating the students and preparing them with real-world knowledge of the concrete industry for post-graduation usage has been beneficial. This year, the CRMCA has expanded the Student Partnership to CSU-Pueblo, where students in the Construction Management and Civil Engineering Technology (CET) programs experienced testing concrete and were administered the ACI Concrete Field Testing Technician certification. Unlike CSU in Fort Collins, these students were taught the testing procedures through their courses, thought they did not have hands-on experience. The Student Partnership gave these students a chance to receive the ACI certification and be prepared for a career in the concrete industry.
Thank you to the CSU-Pueblo students and their Professor, Kevin Sparks, for being excited to get dirty and we hope to continue to prepare future students and colleagues! We would also like to thank all the volunteers over the course of training and certification from our member companies:
BASF
CDOT, Region 2
Geocal
Jesik Consulting
Kleinfelder
RockSol
Transit Mix
Yeh and Associates
WesTest
Please contact CRMCA Program Manager, JT Mesite, if you are interested in participating in this program in the future.