Join the CRMCA for the Annual Night at the Rodeo on January 12, 2023.
The event will begin with a reception at the Forney Museum Transportation followed by the National Western Stock Show's Pro-Rodeo.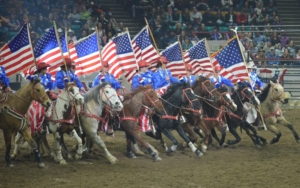 Details
Thursday, January 12, 2023
5:00 p.m. – Reception Forney Museum of Transportation (Forney Museum)
5:30 p.m. – Dinner (Forney Museum)
7:00 p.m. – Rodeo (National Western Stock Show)
Tickets are $75 for adults and $50 for children. These include access to exhibits at the Forney Museum, dinner with a hosted bar, entrance to the Pro-Rodeo, and a parking pass*.
Sponsorship of the event is $200.
*Parking pass is only valid during CRMCA event.
Contact Info:
Emma Dolan
Communications Manager
720-297-9902
emma@coloradocaa.org