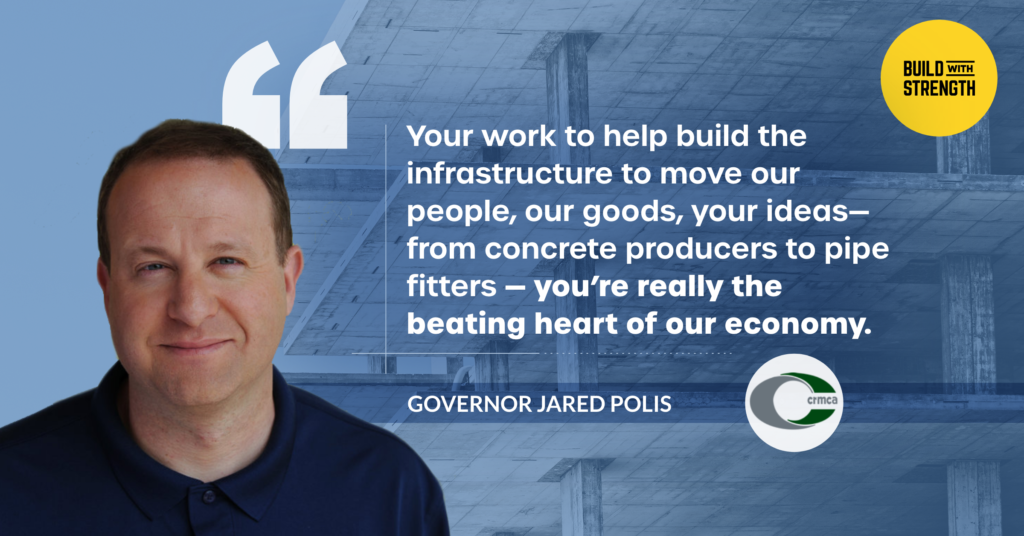 "No matter how long the winter, spring is sure to follow." This proverb is especially relevant today. While the winter season is slowly releasing its grip on spring, a return to normal is not only imaginable but imminent. We are blessed to live in a state with unrivaled beauty and opportunity. And no matter how we feel about Colorado's population boom, the continued migration here provides the wind in our industry's sail.
The Association's committees and Board of Directors have been hard at work, providing a unified voice that supports our agenda. From our commitment to sustainability and resilient building products through Build With Strength, to our successful ACI certification program, the Association is working on your behalf to ensure we continue to build Colorado with concrete.
Concrete Day: CRMCA and our partners at the American Concrete Pavement Association CO/WY and the American Concrete Pipe Association CO held a virtual event on April 28. During the event, Jeremy Gregory with the MIT Concrete Sustainability Hub presented on "Advancements in Sustainability & Resilient Building Practices" followed by brief remarks delivered by Governor Jared Polis. The Governor proclaimed April 30, 2021 as Concrete Day in Colorado. Mr. Gregory's presentation highlighted the benefits of concrete in sustainable building applications. Email Annelise Shepherd for a copy of the presentation.
Technical and Promotional Resources: CRMCA continues to build our technical and promotional libraries with resources for members! Check out some of the recent additions below.
Upcoming Events:
It's hard to believe we're already a third of the way through 2021! The year is off to a fast start, and our industry outlook is strong. I sincerely hope to see you all at the summer social and summer conference. Until then, stay healthy and safe, and enjoy springtime in Colorado.
Cole Jacobs, Martin Marietta
Board President, Colorado Ready Mixed Concrete Association