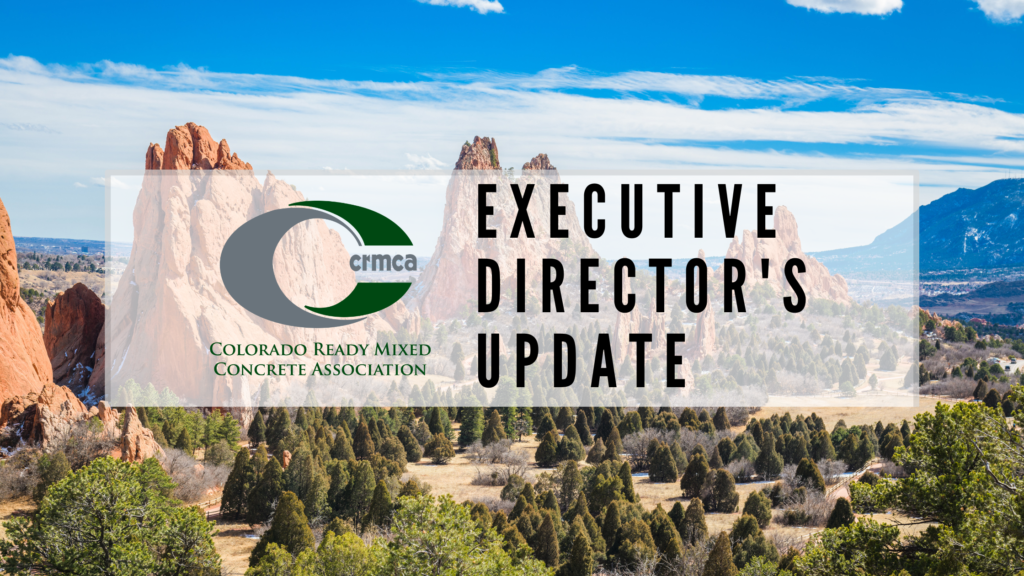 Welcome to the latest version of the CRMCA Blog. Something I know you anxiously anticipate all month long.
Before diving into the general updates, I want to welcome Tod Knudsen as the new CRMCA Board President. Tod has been actively involved in CRMCA for the past 5+ years and has worked closely with the market committees, Build With Strength campaign, and in an executive role at the board level. Tod is the Owner/CEO at Action Ready Mix, a local, family owned concrete manufacturing business in Colorado Springs. I look forward to Tod's guidance as Board President.
Now, here are a few highlights of recent activities, things to come, and areas of importance.
Success regarding Advocacy. I am pleased to say our heightened focus on advocacy is beginning to reap results. We were able to defeat a proposed amendment to Denver City and County Building Codes that would have required Environmental Product Declarations for all concrete deliveries in Denver. While we support this approach overall, it must be implemented in a logical format, and with a process that includes discussions with the concrete industry. Therefore, CRMCA fully opposed this change and pulled together several CRMCA members to testify at the meeting. The changes were voted down by an 11-2 vote, thanks to our efforts. While this was a win, it is never ending, and we must keep focused on items like this. Thank you Annelise Shepherd for pulling membership together and defeating this imitative, with our members' support!
Past Event Recap
CRMCA/CSSGA Spring Networking Event took place on April 19 at ACE Eat & Serve in downtown Denver. It was very well attended as members are clearly wanting to re-engage with other members on the business and social front. Thank you to our generous sponsors including:

Brooks & Nelson
CarbonCure Technologies, Inc.
Continental
Jackson Kelly PLLC
Monarch Mountain Minerals and Aggregates
Mountain Cement Company
Tetra Tech, Inc.

Legislative Breakfast. Before the board meeting on April 20, Senate Minority Whip, Paul Lundeen, spoke at the joint CRMCA/CSSGA Legislative Breakfast. It was a great opportunity to discuss specifics underway at the Capitol and gain insight on bills to follow. Here is a link to the summary of bills CRMCA is tracking with the Legislative Subcommittee. With only a few weeks to go, there is a lot of activity underway. I thank Totsy Rees for her efforts in representing the industries' needs.
Teller County Key Ceremony on 4/21. I hope everyone is aware of our support of the Habitat for Humanity project in Teller County, West of Colorado Springs. The exciting aspect for our industry is that an entire complex with 18 total housing units is being constructed entirely with ICFs. The Key Ceremony that occurred on April 21 was special, as all the industry's efforts came full circle to help families move into homes that otherwise would not have been possible. So, at the end of the day, we not only promoted the use of concrete in cost effective construction, but also gave back to the community as a goodwill gesture. I need to thank NRMCA for their ongoing support, and Emma Dolan with CRMCA. Emma has been involved in the entire project, and her hard work is paying off for the industry.
Concrete Day at the Capitol on 4/29. As we have been unable to hold this event for several years due to the pandemic, we were very excited for this year's event. Many CRMCA members worked to B-B-Q hamburgers and hot dogs for everyone at the state Capitol. This is our way to keep the concrete industry at the forefront and say "Thank You" to the elected officials and hardworking staff at the Capitol. Thanks to all those who participated, braved the wind and pivoted half way through to move the food indoors! We are grateful for the flexibility from the elected officials, Capitol staff, and state patrol.
Upcoming Events
Western Slope Networking on June 21 – Details to follow, but it is time to host another Networking Event on the West Slope as we are again able to move throughout the state.
Summer Conference in Steamboat on July 21-22. Save the date now and registration/details will be coming in the next month. I look forward to seeing everyone in Steamboat!
There is a lot going on. Contact myself or any of the dedicated staff if we can be of assistance. Thank you.