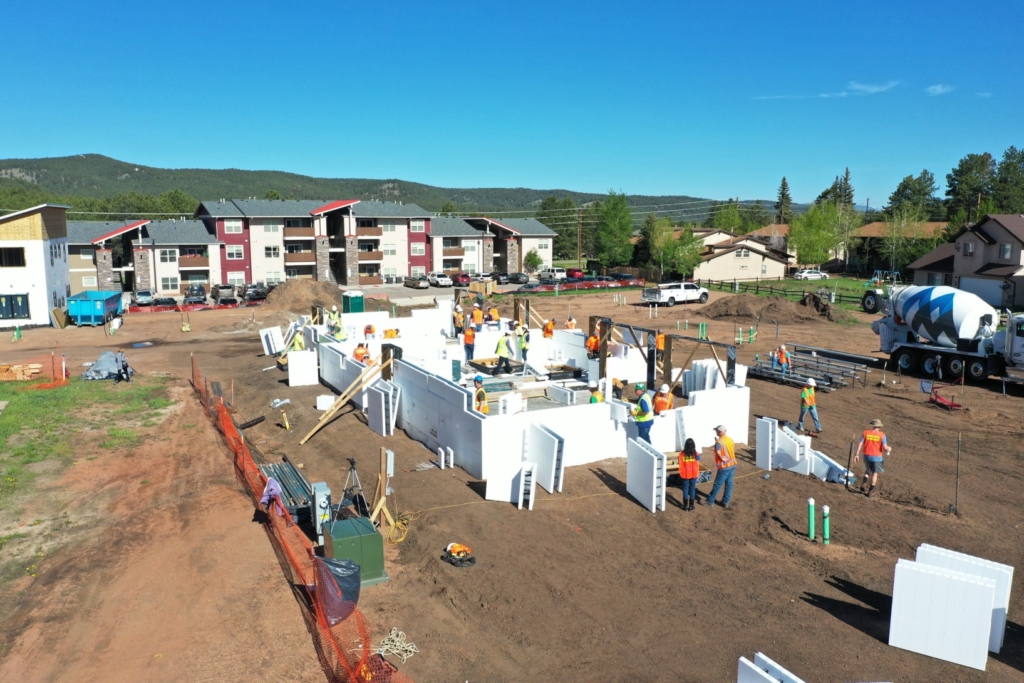 More than 50 volunteers, including many CRMCA members, gathered in Woodland Park on Monday, June 7th for the Builder Blitz to assist in the construction of two of the 18 townhomes in the Woodland Park community.
The Builder Blitz was successful in constructing the exterior walls of the entire first floor of these two duplex units. When complete, there will be 18 highly efficient, durable Trailhead Townhomes that will help address Woodland Park's lack of attainable housing for the area's essential workforce.
Both homeowners of the units attended the event and were able to participate in the construction of their concrete homes. "It was great to see everyone here contributing to this important initiative," said Todd Ohlheiser, Executive Director of the CRMCA. "Our hope is that the development and construction industries will see the numerous benefits that come with building with ICFs. It is resistant to fire, which is particularly important in this area, and reduces energy costs for homeowners."
Also in attendance were five other Habitat for Humanity affiliates from regions across Colorado and Utah to volunteer and learn more about the ease and speed of constructing with ICF. The ICF technology lends itself well to the volunteer format due to its lightweight and easily stackable material.
Without the dedication and collaboration of our members this event would not have been possible. Thank you to all Build With Strength Colorado committee members and volunteers who played such an important role in completing this construction in one day!
Concrete for the Trailhead Townhomes was donated by:
Transit Mix Concrete & Holcim Cement
Thank you to our event partners!
NRMCA, Build With Strength, Open Range Construction, Habitat for Humanity of Teller County and Fox Blocks for all support to make this event such a success.
Thank you to our CRMCA member sponsors!
Construction of the Trailhead Townhomes will continue throughout the summer. If you are interested in learning more or getting involved, please reach out Emma Dolan with CRMCA.