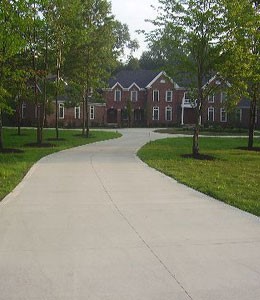 Enhancing the aesthetics and value of your home is important. The exterior of the home, such as driveways, patios, sidewalks, and walkways are a major part of aesthetics and property value. Many factors play a role in these concrete elements, from planning to placement, to maintenance over time. The CRMCA Central Market Committee has developed a "Homeowner's Exterior Concrete Maintenance Guide" to assist property owners in caring for their exterior assets as well as extend the life of their new and existing exterior concrete.
The guide will help in how to best protect your concrete after it has been placed, finished, and hardened. Some of the steps in helping your concrete last is curing, sealing, and long term maintenance. Curing is a critical step in any concrete placement because proper curing maximizes strength and durability of the concrete at the surface, where the product is most vulnerable. Sealing assists in reducing the affects of the freeze-thaw cycle, as well as harmful substances like chemical deicers, during the lifespan of the concrete. Long-term maintenance is also an important factor in the care of your concrete. Maintenance includes, but is not limited to, removing snow and ice immediately from the concrete surfaces, avoiding use of deicing chemicals or fertilizers, and cleaning the concrete surface of foreign debris.
The "Homeowner's Exterior Concrete Maintenance Guide" dives further into these care steps for property owners. Please check out the guide using this link then share with your clients and neighbors. Hard copy brochures are available by contacting JT Mesite of the CRMCA directly.