In a collaboration between the Colorado Ready Mixed Concrete Association (CRMCA) and Colorado State University (CSU) in Fort Collins, the ACI Concrete Field Testing Technician Grade I certification was administered to a group of about 100 Civil Engineering and Construction Management students. This initiative marks a pivotal moment for aspiring civil engineers and future construction managers, as they embark on their journey into the concrete and construction industries.
The ACI Concrete Field Testing Technician Grade I certification is a coveted credential that equips individuals with the basic skills and knowledge necessary to ensure the quality, consistency, and integrity of concrete in construction projects. It is a vital component of the construction industry, ensuring that structures are not only built efficiently but also meet rigorous quality standards.
This partnership between CRMCA and CSU highlights the commitment to excellence in education and the construction sector. The success of this endeavor wouldn't have been possible without the dedication and hard work of the professors and volunteers who tirelessly guided and supported the students throughout the certification process. The professors played a crucial role with their wealth of knowledge and experience in imparting the necessary theoretical and practical aspects of concrete testing. Their guidance is instrumental in shaping these students into competent future professionals in the construction industry.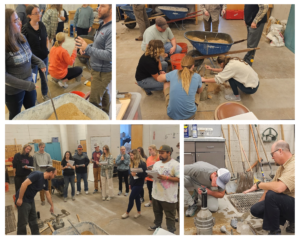 Moreover, the volunteers, often industry experts themselves, selflessly devoted their time to provide real-world insights and hands-on training. Their commitment to mentoring the students ensured that they gained not only theoretical knowledge but also practical skills that are essential in the field. Thank you to those volunteering from:
Ames Construction
CMT Technical Services — Cesare Inc
Colorado Department of Transportation (CDOT), Region 1 and Region 4
Ground Engineering
HDR, Inc.
Terra CO2 Technology
Terracon Consulting
Yeh & Associates, Inc.
Most of these 100 students will receive their ACI Concrete Field Testing Technician Grade I certifications, pending a successful written exam in early November 2023. They are taking their first step into the concrete industry, a world where precision, quality, and innovation are paramount. They are not just learners but future leaders and decision-makers in the construction fields, thanks to the professors and volunteers who supported their journey. The CRMCA's administration of the ACI Concrete Field Testing Technician Grade I certification to the civil engineering and construction management students at CSU in Fort Collins signifies the commitment to shaping the next generation of the construction and concrete industry leaders.
If you are interested in helping during any of the CRMCA Student Partnerships across the State of Colorado, or even helping at the regular ACI certification session throughout the year, please contact me at jt@coloradocaa.org to get involved!