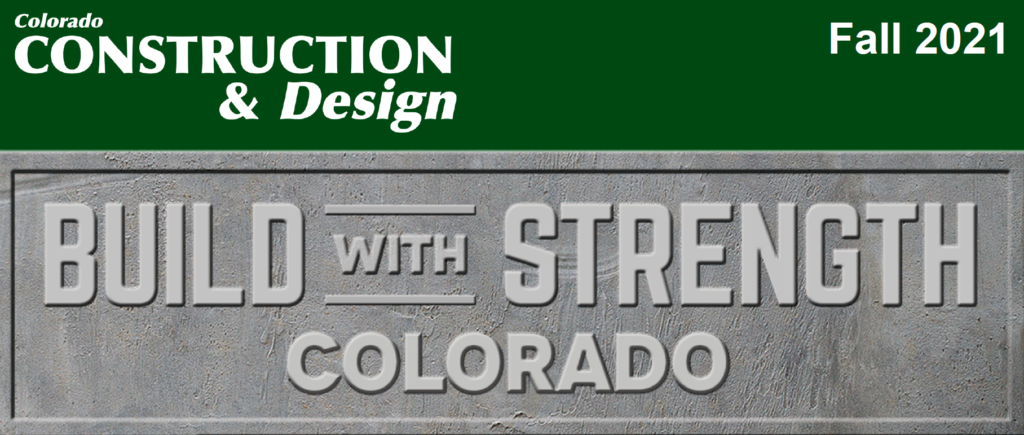 CRMCA is excited to announce the recent partnership with Colorado Construction and Design magazine (CCD)!
CCD is Colorado's leading construction and news marketing magazine. CCD engages top commercial real estate owners, general contractors, land developers, government agencies, economic development officials and the Architect, Engineering, and Construction (AEC) industry leaders across the state.
Build With Strength Colorado has partnered with CCD magazine to increase the reach of BWS educational and promotional efforts to the Colorado AEC community. This partnership with CCD magazine is a great step forward for the BWS communication goals and we need your support to make the partnership a success! Learn more about the opportunities and how to engage below.
Advertising Opportunities
As a CRMCA member you will receive reduced ad rates, free subscriptions to the magazine, and publicity for your company and projects.
If you are interested in advertising with CCD, contact Mike Branigan at 303-914-0574 or fill out this form.
CRMCA Fall Feature
The CRMCA Environmental Advocacy Task Force developed content for a full feature spread in the Fall edition of CCD Magazine. The feature will include the following article topics.
Buy Green Colorado, Intro to EC3 Tool, and Life Cycle Assessment of Concrete Buildings
Why to Choose Concrete for Affordable Housing
Calculating Energy Savings through the Concrete Design Center
Concrete Quarterlies
CRMCA and Build with Strength contribute with a regular column. Previous topics include:
Introduction to Build With Strength Colorado and the NRMCA Design Center.
Focus on lumber prices in comparison to concrete.
Comparison of Insurance costs between concrete and wood construction.
If you have suggestions for upcoming article topics for the regular column, please reach out to Emma Dolan.