The Concrete Testing Adherence Collaboration (CTAC) program continues to expand across North America. In the past year of 2022 and into this year in 2023, the program has been presented at many different areas of the country. Awareness of the program is spreading and continues to share the benefits of the program.
Through March 2023, the CTAC program expanded the program into several regions through discussions, presentations, and word-of-mouth. The program was presented to:
Maryland Ready Mixed Concrete Association
Oklahoma Ready Mixed Concrete Association
Virginia Ready Mixed Concrete Association
Georgia Ready Mixed Concrete Association
NRMCA ConcreteWorks
The Concrete State, Iowa Ready Mixed Concrete Association
Nebraska Concrete & Aggregates Association
CONAGG/ConExpo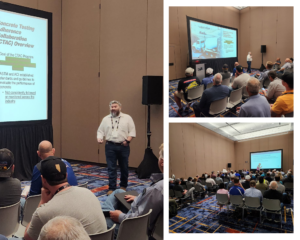 In addition to these groups being presented to on the content of the CTAC Program, two new training programs have been developed for discussing training for both Supervisors/Company Managers and Observers through Zoom. The online training courses are available every other month, on the dates shown.
Further presentations in 2023 have already been scheduled to expand the program even further including:
Aggregate and Ready Mix Association of Minnesota
National Concrete Consortium (NC2)
ASTM International, D09.98 Evaluation of Laboratories
CRMCA Market Committees
Various East Coast Associations
In Colorado, if you are not aware of the program, please contact us to discuss current access availability and benefits to your company. The CTAC program should still be thought of as a very useful tool for the industry. Even if you or your company has used the CTAC program in the past, or if you haven't been actively using the program, please don't hesitate to contact us at ctac@coloradocaa.org or contact JT Mesite at jt@coloradocaa.org directly to coordinate a presentation or discussion to get more familiar with the CTAC program.
JT Mesite, P.E.
Program Manager
CRMCA