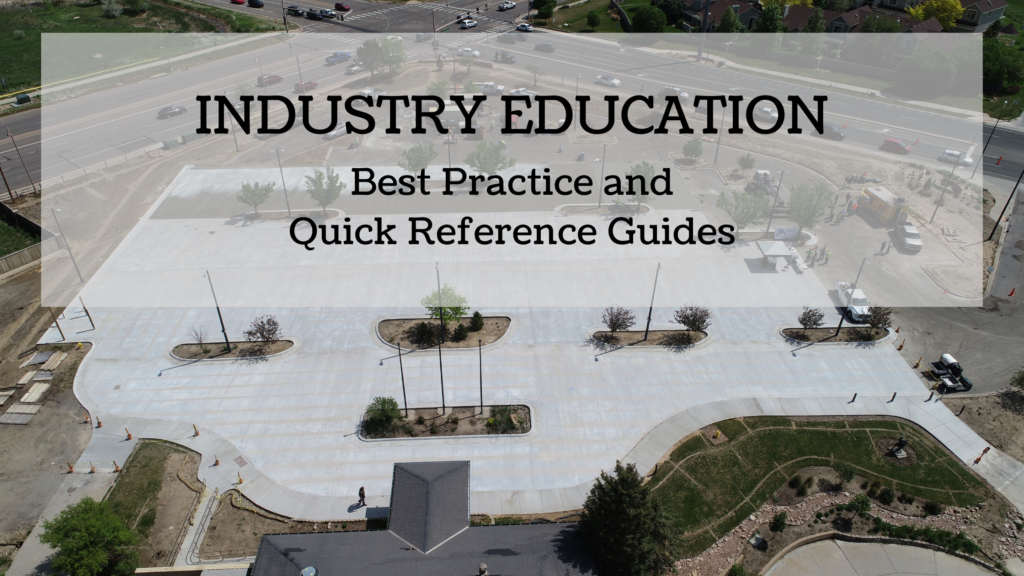 CRMCA Committees continue to reach the concrete industry through development and promotion of educational tools. The Market and Technical committees follow different paths to implement the shared goal of expanding concrete knowledge and usage in construction. The committees have developed materials that revolve around education for industry professionals, including municipality entities, designers and specifiers, engineers and technicians, and contractors.
Over the next several months, I will share information about the available resources, facts sheets, presentations, and training programs that help to increase concrete knowledge across Colorado. This month I am focusing on the best practices and quick references fact sheets.
Fact Sheets: Best Practices and Quick References
Over the years, CRMCA committees have developed fact sheets outlining best practices. Among these references, multiple documents are specific to flatwork finishing. These fact sheets assist both contractors and their clients with the placement and care of concrete flatwork.
Exterior Concrete Flatwork Construction and Maintenance Best Practice (English & Spanish)

This guideline assists with the planning and the installation of exterior concrete, summarizing the most common ACI requirements typical to Colorado residential flatwork.

Homeowner's Ongoing Exterior Concrete Maintenance Guide

A helpful guide created by CRMCA to assist homeowners during and after concrete placement to extend the life and enjoyment of their property.
Other fact sheets, a series called "Concrete in Colorado", including on-site references for making cylinders, initial curing, and scaling information are currently being updated. The Concrete in Colorado documents begin with these facts and reference the appropriate Specifications and Standards.
The CRMCA committees are instrumental in the development of these documents! Thanks to the committee members who have made these resources available and successful through their leadership and participation! If you have any comments, inquiries, or wish to assist with future endeavors noted, please do not hesitate to reach out.
JT Mesite, P.E.
Program Manager