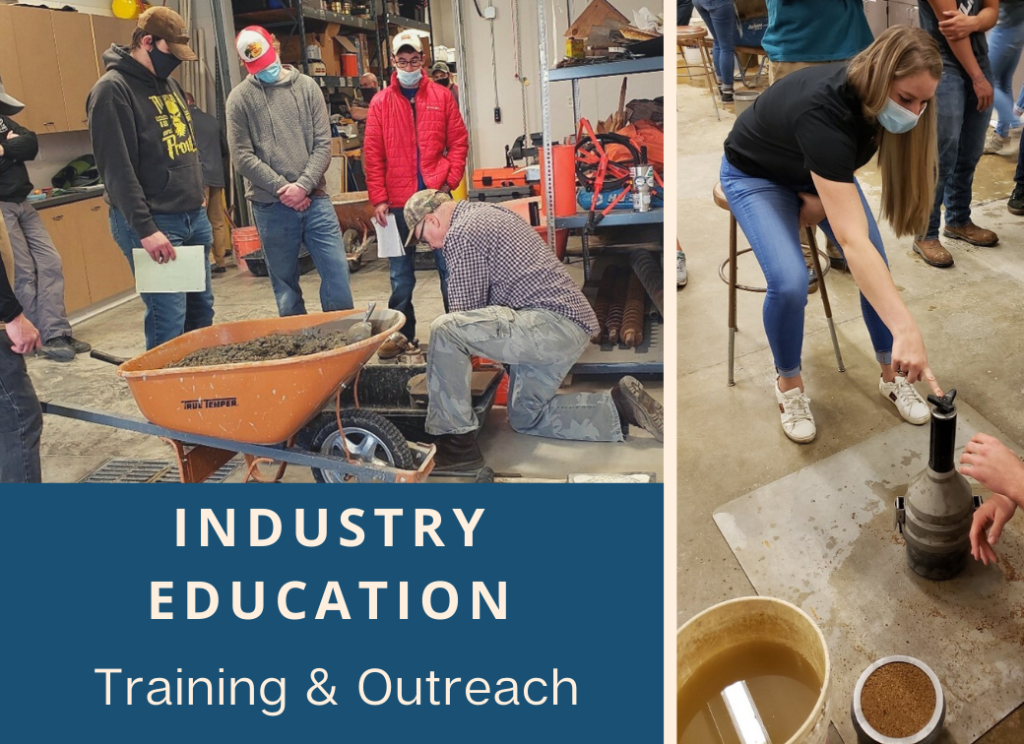 CRMCA Committees continue to reach the concrete industry through development and promotion of educational tools. The Market and Technical committees follow different paths to implement the shared goal of expanding concrete knowledge and usage in construction. The committees have developed materials that revolve around education for current and future industry professionals, including municipality entities, designers and specifiers, engineers and technicians, and contractors.
For my last installment of the Industry Education Blogs, I am sharing information about the available resources and training programs that help to increase concrete knowledge across Colorado. This month I am focusing on CRMCA sponsored training for concrete testing.
Training: Concrete Testing
Field and laboratory concrete testing require accredited certifications per project and regional specification. To prepare for these certifications and continue to be up-to-speed on requirements of concrete testing, CRMCA provides different avenues to assist members and their employees:
Training for ACI Field Concrete Testing Technician Grade I

Throughout the year, CRMCA offers multiple opportunities for learning the procedures and getting hands-on experience with equipment for field concrete testing. These training days include not only how to perform the tests, but also why these tests are important.
The training courses are free for CRMCA members and provide a great opportunity for not just new employees, but also experienced personnel to get a refresher course on the procedures.

Concrete Testing Preparation Videos

CRMCA created multiple preparation videos to assist individuals in details of concrete procedures. These videos are produced with the assistance of CRMCA members and published on YouTube.
Videos currently available include ASTM procedures included under the ACI Field Concrete Testing Technician Grade I certification and Length Change of Concrete, or Shrinkage.
Additional videos are in production, including ASTM procedures included in the ACI Strength Testing Technician certification, concrete coring, aggregate testing, and other procedures applicable to the Colorado concrete industry.

Student Partnerships in ACI Certification

CRMCA continues to partner with Colleges and Universities in Colorado. This year, members engaged both Civil Engineering and Construction Management students at Colorado State University (CSU) in Fort Collins and in Pueblo. The students learned not just how to perform field concrete testing procedures, but also why they are important.
This past Spring 2021, a total of 32 students and their professor when through two days of training and certification at CSU – Pueblo.
In the Fall 2021, 85 Engineering Students and 36 Construction Management at CSU -Fort Collins learned the testing and completed certification over two weeks.
Plans to engage in educational training are in place for 2022, including at CSU-Pueblo and Aims Community College, both of which include construction management students preparing to lead the industry in the future.
These training resources would not be possible without the leadership and participation from CRMCA committee members. If you have any comments, inquiries, or wish to assist with future endeavors noted, please do not hesitate to reach out.
JT Mesite, P.E.
Program Manager