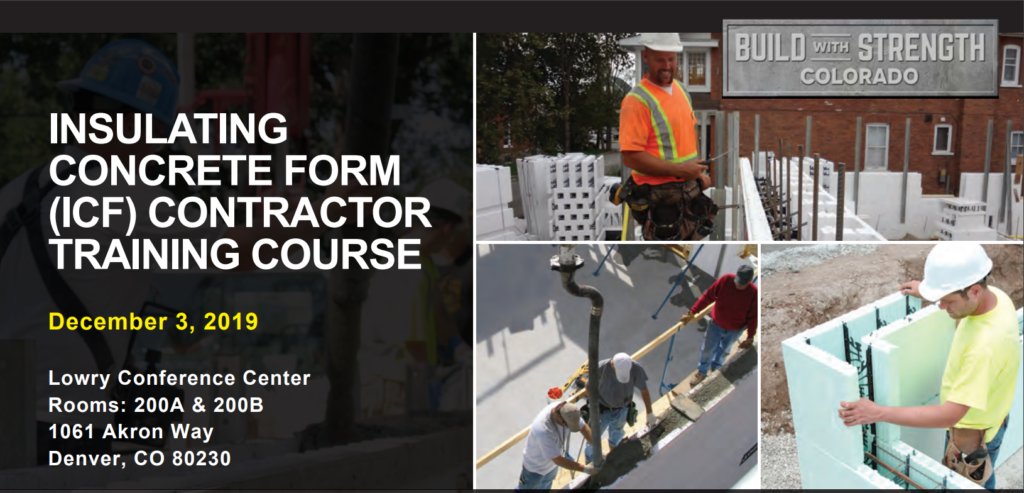 Lighter, faster and more cost effective than other forms of construction, ICFs are quickly becoming the construction method of choice for all forms of construction including single and multifamily, hotels, schools, and offices. Concrete contractors, masons and framers have an opportunity to learn how their trade can work with ICFs to enhance their competitiveness in today's construction environment. This course will give you the training you need to begin building with one of the fastest growing building systems on the market – ICFs.
When
Tuesday, December 3
7:30 a.m. – 1:00 p.m.
Where
Lowry Conference Center
Rooms: 200A & 200B
1061 Akron Way
Denver, CO 80230
Agenda Details
7:30 – 8:00 a.m. – Breakfast
8:00 a.m. – 12:00 p.m. –
Module 1: Introduction to ICFs, Codes and Standards / Break
Module 2: Installation of ICFs / Break
Module 3: Concrete Placement, Services Installation, and Finishes
Hands-on demonstration typically after modules
12:00 -1:00 p.m. – Lunch & Continued Product Demonstration
Who Should Attend?
 General Contractors, Masonry Contractors, Concrete Contractors, Wood and Steel Framers. Design professionals may also benefit.
Continuing Education
Earn 4 AIA-CES Learning Units and 4 Professional Development Hours (PDH).
 Registration
Registration is $50. This fee includes meals, ICF training manual, hands-on instruction and certificate of completion. Use this link to register for the seminar.
Don't hesitate to contact CRMCA's Emma Dolan with any additional questions.