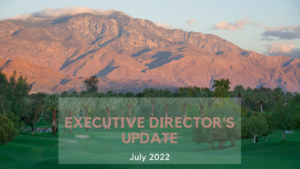 Hello concrete industry.  As we are now approaching August, I hope everyone is having a safe, enjoyable and prosperous summer.  Here is a little bit about what is going on within your ready mixed concrete association.
First, some great news.  I am pleased to announce we have a new hire on staff.  Nicole Aganon is the new Association Administrator and will be working for both CRMCA and ACPA CO/WY Chapter.  A write up on Nicole is included in this enews.  Just to confirm our structure, as you are aware, Annelise Shepherd is pursuing other interests with her career, and we wish her the best.  Emma Dolan has assumed many of the roles Annelise was managing with her new title of Communications & Administrative Manager.  We have a great team in place as we move forward.
Here are updates for this month's blog:
Governmental Affairs
CONCRETE PAC Contributions: Also, as this is an election year, we must be active regarding the candidates and the upcoming elections. To do so, I urge everyone to contribute to the CONCRETE PAC that we have established. Companies and individuals can contribute up the $550 towards the PAC, which enables us to support candidates that support our industry. Members are also encouraged to be part of the process by helping us decide on which candidates to support.  Look for information on this meeting to be held in August.
Recent Events:
Summer Conference was held in Steamboat Springs on July 21-22, and was a huge success.  Thanks to all our sponsors and participants.
Habitat for Humanity Build was started last week.  This is the first Habitat home in Denver metro built entirely with ICF form construction.  The channel 4 news team was on hand July 27 for filming and getting the message out on the many benefits of constructing with concrete.  Thanks to Emma Dolan for her leadership with marketing, Bunco Colorado for contributing concrete, and our great partners with NRMCA for the help!
Upcoming Events:
Mixer Truck Driver Championship will take place on August 20 at Jeffco Stadium in Lakewood. Register drivers here and learn more about volunteer and sponsorship opportunities using this link.
NRMCA's ConcreteWorks and PCA's Fall Committee Meetings will be held at the Gaylord Hotel in Aurora September 29 – October 3 this year. Learn more about this valuable event.
The Annual Conference will take place December 6 – 7 at the Broadmoor Hotel in Colorado Springs. Look for details and registration this fall.
Thanks, and I hope you're enjoying your summer. Please reach out, if we can be of assistance.
Todd R. Ohlheiser, CAE
Executive Director