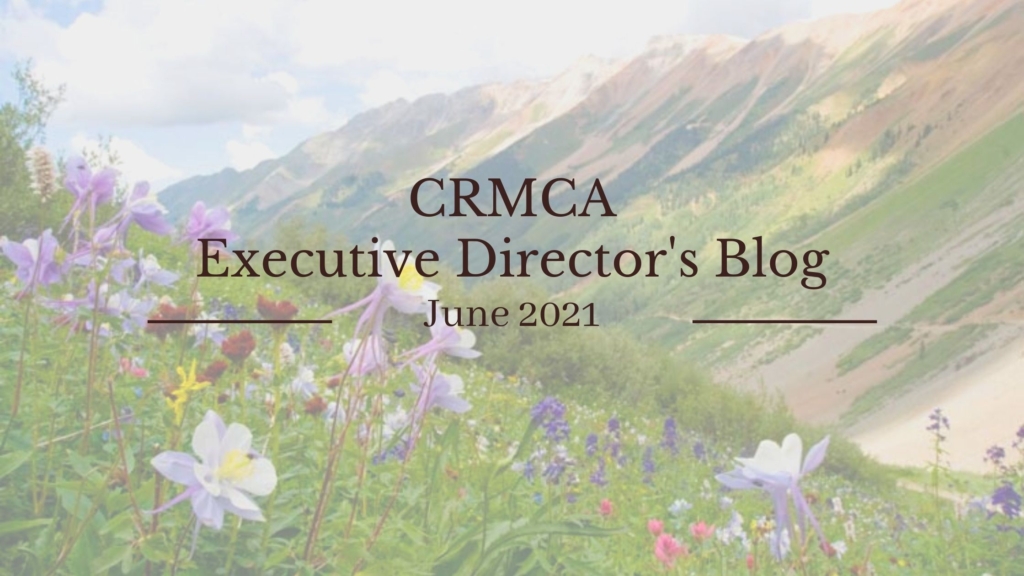 Hello CRMCA membership. Looks like we then went from an extremely wet May to the instant drought and record heat in June. Seems like never a dull moment!
While COVID has dominated our lives since early last year, it certainly appears it is going further and further away and in the rearview mirror. It is great to actually be able to interact with other members, the public, restaurants, events, and regain some normalcy. With that said, the CRMCA and CSSGA joined forces and held our first full in person event in Denver at the ACE Eat & Serve on June 15. Over 60 people attended on a warm (some would say HOT) summer's evening. To actually see and talk with people in person, versus the four lettered word (ZOOM) was truly refreshing. Thanks to all our sponsors and those who came out for the evening. This is the first of many more to come!  Thank Goodness!
We also had an extremely successful Builder Blitz with Habitat for Humanity in June. Read the report from Emma Dolan.
Next up is our Summer Conference. This year's event is scheduled for August 12-13 at the Grand Hyatt Hotel and EagleVail Golf Course in Vail, CO. The event will begin with board of Director meetings the afternoon of Aug 12, followed by the first of its kind………………………………… Rock & Roll Race!!!  Yes, while we normally work together on industry issues with CRRMCA, Thursday evening will be a competition to see if you have the fastest Rock in Colorado. Imagine those bragging rights!!!!!!!!!!!!!!!!!!!!  Big time status!!!!  Just bring your 1 inch or smaller rock, or pick from one we will supply, and get in line for the track. Should be an enjoyable evening.
Regarding meetings in general, we conducted a brief survey to determine what members would like to see post COVID. The primary questions and subsequent actions include:
Would you participate in the Annual Conference as a streamed event. The results were very mixed and do not support live streaming of the Annual meeting. Therefore, it will be in person only at the Broadmoor in Colorado Springs November 18-19.
Should we continue the Zoom option for attending all other meetings, including those with in person attendance. 85% said yes, they want both the in person and Zoom option. Very strong message, and this aspect will obviously stay in our operating model.
This survey had great participation, and I want to thank all those who took the time to complete it. We want direct feedback on items you need from us, and this is one great way to receive it. Thanks again.
We also recently found out the ACI Certification sessions can resume at full capacity beginning in August. It has been well over a year since we have run 2/day a.m. and p.m. sessions. Full sessions will allow us to meet the demand for certifications, and make it easier for members to schedule. I appreciate the help from CDOT and the use of their Colorado facilities. They were a great partner in keeping certifications underway, and operating within the CDC and CDPHE guidelines.
Finally, believe it or not, the 2021 legislative Session wrapped up in early June. Obviously postponed earlier in the year due to COVID, the session was finally completed. Access a brief Session Recap.
In closing, I want to thank everyone for their ongoing involvement with CRMCA. It is the dedication of our members that makes this association drive forward.
Todd R. Ohlheiser, CAE
Executive Director