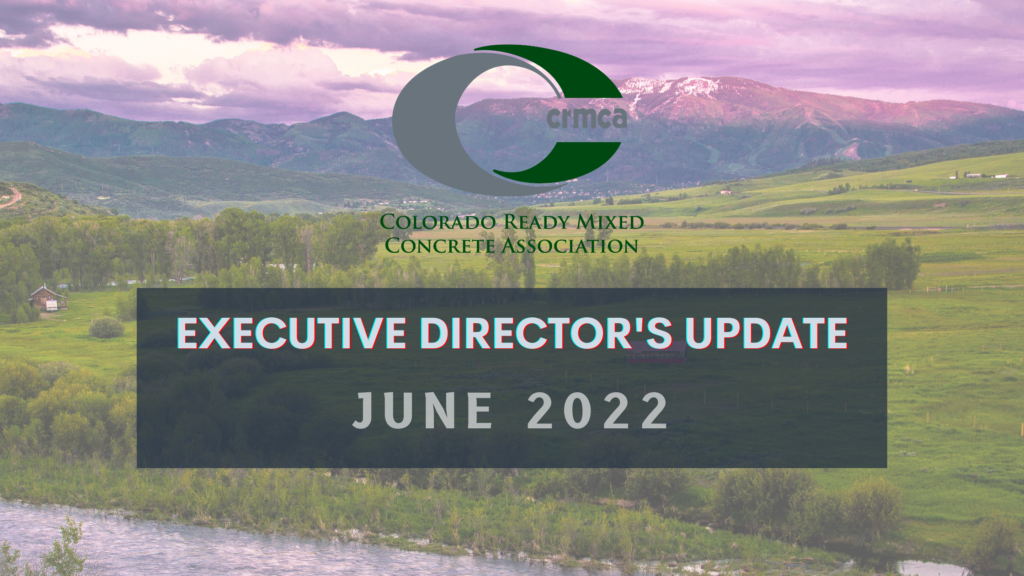 Hello concrete industry.  As we are now into the summer season in Colorado, and just experienced the longest day of the year, we again realize how fortunate we are to live in this great climate.  With that, I welcome you to the CRMCA updates.
I believe you have heard by now, but if not, we will be going through some changes at the association.  Annelise Shepherd has chosen to depart CSSGA and CRMCA to take some time off with her family, while pursuing future endeavors in expanding her career.  Fortunately, she will be helping with a transition and will remain with us full time until June 30. It is no secret that she has been a huge part of the success both CSSGA and CRMCA have enjoyed. On that note, I am very pleased to announce the Emma Dolan will be expanding her roles within the 2 associations.  In her new role as CRMCA and CSSGA Communications and Administrative Manager she will assume many of the roles Annelise was responsible for.  There are also plans to hire an Association Administrator.  See the job posting and please share with your networks!  While we wish Annelise the best, we are in great hands as we move forward with our associations.
Here are updates for this month's blog:
Governmental Affairs
Legislative Review: CRMCA Lobbyist, Totsy Rees, provides an update of the 2022 Legislative Session.
CONCRETE PAC Contributions: Also, as this is an election year, we must be active regarding the candidates and the upcoming elections. To do so, I urge everyone to contribute to the CONCRETE PAC that we have established. Companies and individuals can contribute up the $550 towards the PAC, which enables us to support candidates that support our industry. Members are also encouraged to be part of the process by helping us decided on which candidates to support, and even personally deliver checks to them. For more information contact me.
Safety
OSHA has launched a National Emphasis Program on Outdoor and Indoor Heat-Related Hazards. Much of this is modeled after CAL OSHA's program and operators may find this resource, Sample Procedures for Heat Prevention and Illness Plan, helpful. Info on and resources from OSHA's national emphasis program can be found here.
Upcoming Events:
Appreciation Reception for Annelise will take place on June 30 from 3:00 – 5:00 p.m. at Teller Bar in the Renaissance Hotel Downtown Denver.  Please plan to swing by and share your best story!
Summer Conference in Steamboat on July 21-22. Details, sponsorship, and registration using this link, room reservations can be made here.
Mixer Truck Driver Championship will take place on August 20 at Jeffco Stadium in Lakewood. Register drivers here and learn more about volunteer and sponsorship opportunities using this link.
NRMCA's ConcreteWorks and PCA's Fall Committee Meetings will be held at the Gaylord Hotel in Aurora September 29 – October 3 this year. Learn more about this valuable event.
The Annual Conference will take place December 6 – 7 at the Broadmoor Hotel in Colorado Springs. Look for details and registration this fall.
Thanks, and I hope you're enjoying your summer. Please reach out, if we can be of assistance.
Todd R. Ohlheiser, CAE
Executive Director