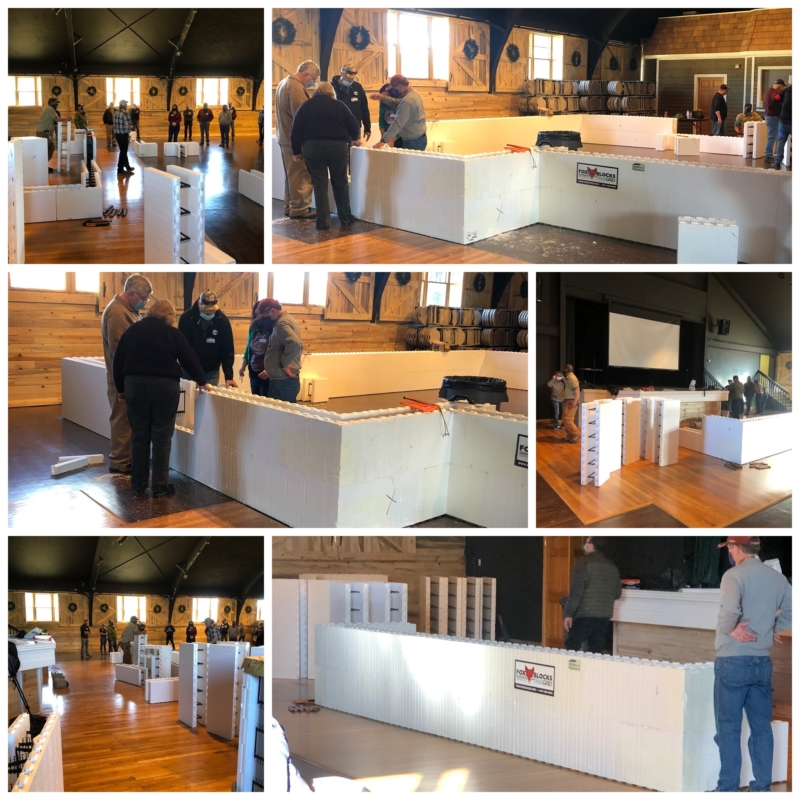 Habitat for Humanity of Teller County hosted a construction training on Saturday, February 20th for home buyers, Habitat Volunteers and AmeriCorps volunteers. This training was led by Dan Vogel of Open Range Construction to instruct volunteers on how to build using Insulated Concrete Forms (ICFs). The project will begin construction over the next few weeks and volunteers will be on site building exterior walls out of ICF.
CRMCA and Build with Strength Colorado are invested in providing support during all stages of this project. I had the opportunity to attend the training and was excited to see the number of volunteers and homeowners! The day was spent discussing the materials and tools that will be used to construct all 18 units and culminated in the group building the exterior envelope of Unit A.
The home buyer for this unit is Allison Brown, a kindergarten teacher who has lived in Woodland Park her whole life. She, along with the other volunteers, was integral in the construction of her home and will continue to be involved throughout the process.
BWS CO and NRMCA had a professional videographer on site to capture the ICF Labor Training. We were also able to conduct interviews with homebuyers, Habitat for Humanity staff and volunteers and Martine Vogel with Open Range Construction. They answered questions about what they were excited to see as the neighborhood progressed and their knowledge of ICF construction. Obviously, answers ranged from knowing the ins-and-outs of construction to introductory levels, but it was clear that there was a unified excitement to build these homes and the benefits of ICF were shared among everyone present.
The relationship between CRMCA, Open Range Construction and Habitat for Humanity of Teller County is being strengthened by the shared goal of providing high performing, energy efficient, affordable housing to the citizens of Woodland Park, Colorado.
CRMCA also looks forward to assisting NRMCA in their larger effort to partner with Habitat for Humanity on a national level. Click here to learn more about Build With Strength's Habitat for Humanity Initiative.
The NRMCA 2021 Annual Convention will feature a presentation on this topic specifically and outline the partnership, "NRMCA and Habitat for Humanity: Concrete Homes, Concrete Results".
Emma Dolan
Program Coordinator