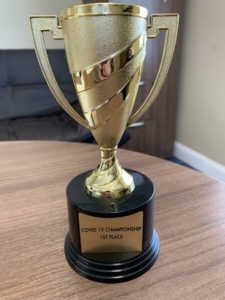 We all know getting out in group settings has been almost impossible this summer for obvious reasons. However, golf is one of the few things that can be conducted safely while maintaining the CDC guidelines. With this in mind, several members of the Southern Market Committee got together for a golf outing on Friday, Aug 21 at the King's Deer Golf Club in Monument, CO. While it was a small group, it was a great time to safely interact for networking.
In an effort to make the day more enjoyable, Tod Knudsen came up with the COVID Cup (pictured). We all hope this is a once in a lifetime award and we never experience a pandemic again. Regardless, it was a unique way to have a little fun during these difficult times.
Incidentally, Tod won his own award! Tod, along with his ringer team of Mark Bevel (Action Ready Mix, LLC), Austin Pittsinger (Action Ready Mix, LLC), Larry Solo (Tod's neighbor) demolished all competitors (OK, one other team) and went on to win this coveted award. Word has it they will rotate the cup between them similar to the Stanley Cup. Then it will be proudly placed in Tod's personal Trophy case at Action Ready Mix. Thanks Tod, for being a good sport and making the event more enjoyable!