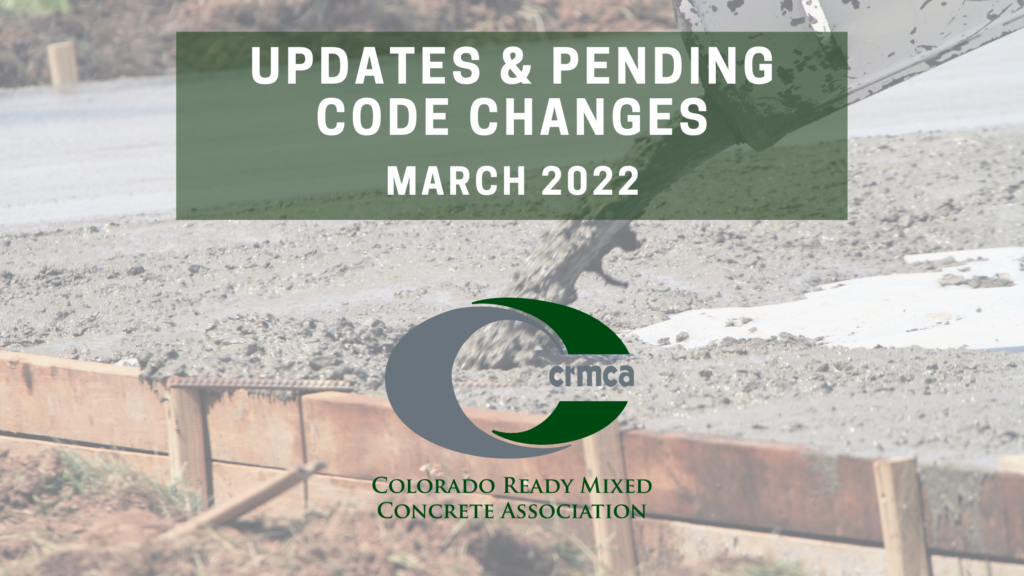 CRMCA continues to participate and monitor updates and pending changes to standards and codes that will impact the Colorado ready mixed concrete industry. Read on to learn more.
Changes to ASTM C94 changes
In Colorado, many loads of concrete have been rejected due to the time limitation set forth in ASTM C 94, Specification for Ready Mixed Concrete. Since 1935, the restriction clearly stated the discharge of concrete was to be completed within 90 minutes of batching the load. This past year, the specification updated to extend the time limitation, if any at all. ASTM C94 now states that a "Purchaser shall state a time limit" which will allow for more developed concrete mixes including additives and modified proportions to be considered for projects. With this update, the specification will allow for not only time restrictions to be put onto the purchaser, or the manufactured if not specified directly, but also allow for:
Reduction of rejected concrete loads on every project
Reduction of concrete waste
Limit environmental impacts, and
Increasing the allowed travel time and distance per load
CP-65 Proposed Revisions
CDOT's Colorado Procedure 65-19 (CP-65) evaluates low strength concrete using cast and cured specimens or cored specimens. The procedure was last revised in 2019 and, over the last several years, the CRMCA Technical Committee has proposed revisions including:
Clear definitions for team members, curing requirements, and coring limitations
Corrections and clarifications for descriptions and calculations
Additions for improvement and consistency
As CDOT reviews the proposed changes, the Colorado Procedure will be updated for future state projects and the CRMCA will continue to communicate with the membership.
Denver Building Code
The City and County of Denver is in the process of updating the city's building codes. A proposed amendment has been introduced "to reduce the embodied carbon impact of new building construction by applying carbon dioxide equivalent (CO2e) limits for the concrete products specified in the project."
CRMCA is engaging in the proposed amendment and will be meeting prior the April 12 hearing. Please reach out to Annelise Shepherd, if you would like to be included in these discussions.
Touch base with me if you wish to assist with continued industry endeavors, such as the transitional plan of PLCs in Colorado. And please do not hesitate to reach out with any questions on the topics listed above.
JT Mesite, P.E.
Program Manager