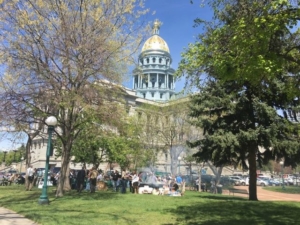 Due to forecasted inclement weather, Concrete Day at the Capitol has been POSTPONED to Wednesday, May 3rd.
The event takes place at the southeast corner of the Capitol grounds (corner of 14th and Grant).
Lunch will be served from 11:00am – 1:00pm.
Concrete Day is supported and presented by the Colorado Ready Mixed Concrete Association,
American Concrete Pavement Association – CO/WY Chapter
and the American Concrete Pipe Assocation – Colorado Chapter
 
We are still seeking volunteers!
  
If you can join us, please indicate your time and volunteer category preference from the following list:
9:30 – 11:00 a.m. – Event Set Up
10:00 a.m. – 1:30 p.m. – Grill Cooks
10:30 a.m. – 1:00 p.m. – Servers (times are flexible)
10:30 a.m. – 1:00 p.m. – Hand Shakers (greet attendees and Legislators)
1:00 – 2:00 p.m. – Break Down
Contact Emma to volunteer!